PK Returns To Real Estate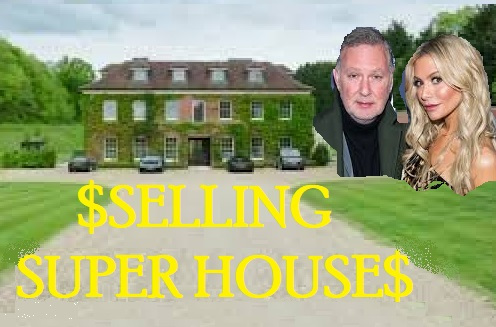 In January 2023, Real Housewives of Beverly Hills star, Dorit Kemsley, teased the announcement of a new reality show that will feature her and her husband, Paul "PK" Kemsley. But the show takes place far away from the couple's allegedly burglarized mega modern farmhouse in Encino, CA.
On January 7, 2023, Dorit Kemsley shared a trailer on Instagram from the new UK-based real estate show. In the clip, titled "Selling Super Houses," her husband PK said, "We're going to market and sell some of the UK's most spectacular, stunning, and super-prime properties."
Kemsley revealed that eight brokers will compete to win a place at his agency. "After 13 years, PK has officially made his grand return to real estate in the UK," Dorit captioned the post. "I'm so excited for what's to come, to be partners in the prestigious RIB agency and to watch our devoted trainees compete for the coveted spot working alongside PK in our agency. It goes without saying how incredibly proud I am of my brilliant husband whose vision, expertise, and dedication has brought us to this very moment. Well done [PK Kemsley] I couldn't be more proud and thrilled to be on this ride with you! let's go!" \
According to House Beautiful, the show will feature the Kemsleys as they open "the ultimate London agency" and search for the very best sales team the country has to offer. The competition-style series will feature the newcomer brokers navigating all aspects of the cutthroat real estate world as they eye a spot on Kemsley's team.
PK Kemsley previously fronted a $2 billion real estate empire but lost his business during a real estate downturn. After a 12-year hiatus, he decided to make his return to the industry. PK first teased his new venture in April 2021 when he confirmed on Instagram that he was returning to the real estate business after stepping away from it for more than a decade. "I'm opening an Estate Agency in London," Kemsley wrote at the time. "For those of you that don't know, I operated globally in Real Estate for 25 years … I've had 11 years off, and now I'm going back to work." He also teased the reality TV tie-in, writing, "A major TV network in the UK has signed to cover this new business, as a constructed reality series. All my friends will be involved."
PK Kemsley's BFF Mauricio Umansky Stars in "Buying Beverly Hills" The Kemsley's new show comes months after RHOBH star Kyle Richards' husband, Mauricio Umansky, and two of their daughters starred in their own reality show, "Buying Beverly Hills." Umansky heads The Agency, one of the most successful real estate brokerage firms in the U.S.. His billion-dollar brokerage firm has offices in the U.S., Canada, Mexico, and the Caribbean, per his company bio.